Recording Phone Calls On Your Mobile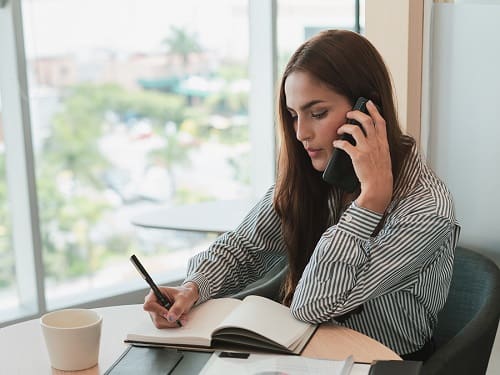 In this article, we look at the legal issues around recording calls on your mobile, and the different methods for doing so.
Is It Legal To Record Phone Calls On Your Mobile?
In the UK, as an individual mobile phone user, generally speaking, secretly recording a conversation is not a criminal offence and is not prohibited if that recording is just for personal use, and the consent of the person you're recording is not needed. There may, however, be a question about whether it's if ethical, depending on the circumstances.
There are certain situations where the legality of recording a call on your mobile may be questioned. For example:
– If the recording is then sold to a third-party or made public without the consent of the participant(s).
– If there's a claim for damages involved.
– If, as in the case of journalists (for example), consent hasn't been obtained or the recording is not judged to be in the public interest.
There may, of course, be other possible sets of circumstances where recording a call on a mobile could contravene laws but these would need to be checked with a qualified legal professional.
What About Businesses?
For businesses, however, there are more rules laws to comply with as regards the recording of phone calls. These can include a potentially complex mix of the following:
– Under the Telecommunications (Lawful Business Practice) (Interception of Communications) Regulations 2000, there are some situations where recording a phone call is legal. For example, these include for the purpose of preventing or detecting crime, in the interests of national security, or to ascertain whether standards are being achieved by persons using the system in the course of their duties. The full set of circumstances can be found here on the government's website.
– Under the Regulation of Investigatory Powers Act 2000 (RIPA) individuals can tape conversations if the recording is for their own use.
– Businesses that store personal information (such as recorded phone calls) must be registered with the Data Protection Commissioner.
– If a business records a call with an employee without their consent, this could be breach of their privacy under the Human Rights Act 1998.
– Under GDPR, there are several aspects to comply with when recording calls. For example, consent needs to be acquired, and businesses must explain why they're recording calls. Participants may give their consent to calls being recorded, for example for a specific stated purpose, to fulfil a legal obligation, to defend the interests of participants, or in the best interest of the public. Also, how the data (phone call recording) is processed, stored, and shared is matter for data protection GDPR. For instance, call recordings must be securely stored and managed, and only retained for the length of time required to fulfil the purpose of the recording. The recordings held by a business must be relevant to that business and only held by that business.
How To Record Calls On Your Mobile
There are several different ways to record calls on a mobile. These include:
– On Android, using Google Voice app or, until recently, other third-party Android apps such as Truecaller app. Due to the vulnerability to misuse of the Accessibility API, an update to the Google Play Store developer policy means that third-party call recording apps must now stop offering their services.
– On an iPhone, to record a phone call (on a speakerphone), use the Voice Memos app.
– In an iPhone, use an iPhone recorder app that allows 3-way conference calls (a 3-Way Call Merge App), e.g. Rev, TapeACall Pro, or Call Recorder Pro.
– Gain consent from the caller, put the caller on speaker, and record them with an external device.
What Does This Mean For Your Business?
Although it sounds like a straightforward subject, and apps exist to enable recordings, for businesses, recording calls on mobiles is covered by several laws. These relate to data protection and human rights. Although there are situations where recording calls would be acceptable, e.g. detecting crime or monitoring standards, businesses need to be clear about what recordings are for, should gain consent, and store the call data in a way that is compliant with GDPR and ensure that storage is set up to allow deletion if requested. For businesses, recording calls on mobiles may be helpful, but possibly legally complex, depending on the circumstances. If in any doubt, businesses would be advised to check with legally qualified professionals.
Disclaimer: The contents of this article should in no way be used or accepted as legal advice or legally accurate. The information contained here has been researched and compiled in good faith; however, the writers are not legally qualified or legal experts and information included here to create an interesting article that is correct to the best of our knowledge.
Ready to find out more?
Drop us a line today for a free quote!