Why Water Resistant Mobile Device Sales Are Up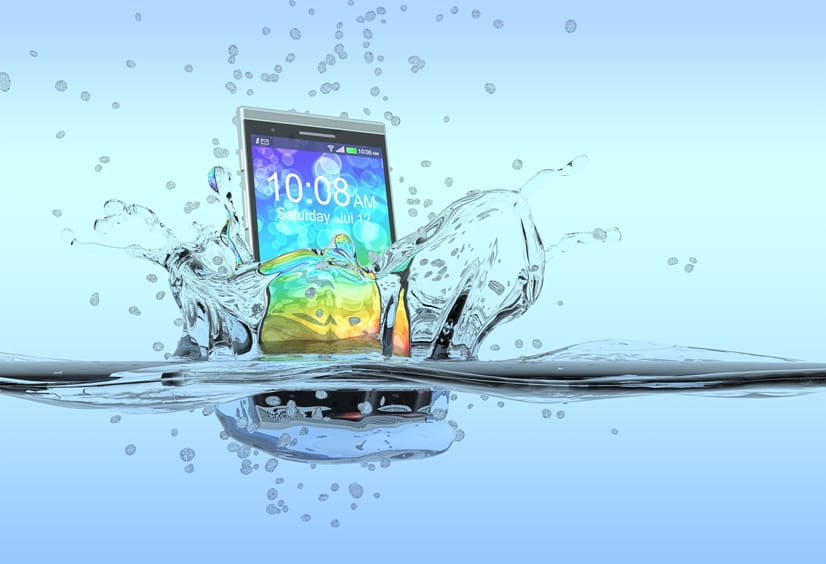 A report by IDC has revealed that the fact that water damage is common and yet it is not covered by insurance policies is the reason why sales of water resistant mobile devices have increased so significantly in 2016.
Water Damage = No Payout.
IDC's European Quarterly Mobile Phone Tracker report has lifted the lid on an experience that is surprisingly common among mobile device users i.e. you are relatively likely to drop your mobile device in water / get your mobile device wet and then not receive an insurance payout if it is damaged as a result.
Big Increase in Sales For Water Resistant Devices.
The IDC report shows that sales of water resistant devices were up a massive 45% year-on-year in the first nine months of 2016. In fact, water resistant devices actually accounted for a substantial 23% of devices sold last year.
During the same period, sales of devices without the feature were found to be down 17%. This second statistic dispels the idea that it's just a case that more phones are now water resistant, and it is an indicator that consumers place a possible deal-breaking value on the feature.
Accidental Water Damage Very Common.
Figures show that water damage to mobile devices is surprisingly common. IDC estimated figures show that as many as 100,000 smartphones are destroyed by liquid damage every single day in Western Europe. The cost to consumers (and potentially insurers) is therefore likely to be more than $10.7 billion (£8.5 billion) a year!
IDC figures also show that the vast majority (95%) of damage to smart phones is accidental anyway.
Most Manufacturers Offer Feature in One Model.
The response to an increase in customer demand for a water resistant phone is the fact that most major smartphone manufacturers now appear to offer at least one model with that feature.
For example, Samsung and Huawei do, and the iPhone 7 and iPhone 7 Plus have an IP67 rating. With this rating the first number (6) indicates protection against solids, and the second number (7) indicates that the phone is capable of withstanding water immersion between 15 cm and 1 meter for 30 minutes.
Technical commentators have pointed out that advances in nano-technology and improvements in industrial design could mean that liquid damage to smartphones may soon become a thing of the past.
A Value-Adding, Differentiating Feature.
Mobile market commentators have noted that whereas some manufacturers compete on price, other manufacturers are finding that differentiating by improving the user experience i.e. resistance to liquids is a profitable strategy because more buyers now place real value on this feature.
What Does This Mean For Your Business?
As more businesses move to a model with a cloud-based centre, with communication and collaborative work undertaken in real-time via staff using mobile devices, the fitness for purpose of those devices and their ability to withstand real and common challenges appears to be increasingly important to business customers.
Spending a little more for important features such as water resistance could mean cost saving in real terms over time through avoiding the purchase of replacements due to water damage. For manufacturers and companies selling mobile devices it is an important lesson in the need to listen to and respond to real-life customer experiences and requirements in order to achieve competitive advantage and increase profits.
Ready to find out more?
Drop us a line today for a free quote!