OpenAI's CEO Sam Altman Fired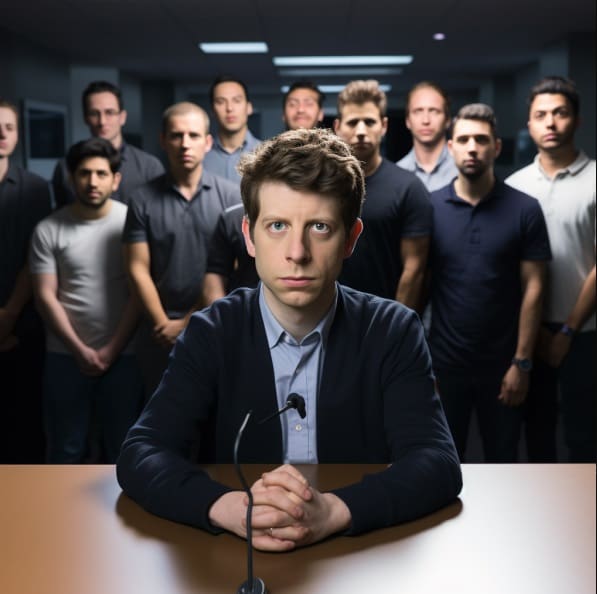 Following the shock announcement that the boss of OpenAI (which created ChatGPT) has been quickly ousted by the board and replaced by an interim CEO, we look at what happened, why, and what may be next. 
Ousted
38-year-old Sam Altman, who helped launch OpenAI back in 2015, firstly as a non-profit before its restructuring and investment from Microsoft, has become widely known as the face of OpenAI's incredible rise. However, it's been reported that following some video conference calls with OpenAI's board of 6 members, Mr Altman was removed from his role as CEO, and from the board of directors. Also, OpenAI's co-founder, Greg Brockman, was removed from his position as chairman of the board of directors, after which he resigned from the company. Both men were reportedly shocked by the speed of their dismissal. 
Why?
The reason given in a statement by OpenAI for removing Mr Altman was: "Mr. Altman's departure follows a deliberative review process by the board, which concluded that he was not consistently candid in his communications with the board, hindering its ability to exercise its responsibilities. The board no longer has confidence in his ability to continue leading OpenAI."
The company also said: "We are grateful for Sam's many contributions to the founding and growth of OpenAI. At the same time, we believe new leadership is necessary as we move forward."
Sam Altman Says …
Mr Altman, who since the introduction of ChatGPT and his many public appearances (most recently at the UK's AI Safety Summit), interviews, and statements, many people see as the generally well-liked, public face of AI, has not publicly elaborated on what he may not have been candid about. 
He commented on Elon Musk's X platform (Musk was one of the founding co-chairs of OpenAI) that: "I loved my time at OpenAI. it was transformative for me personally, and hopefully the world a little bit. most of all I loved working with such talented people. Will have more to say about what's next later." 
Intriguingly, there were also reports at the time that Mr Altman and Mr Brockman may have been willing to return if the board members who ousted Altman stepped down – chief scientist Ilya Sutskever has been singled out in some reports as person who led the move to oust Altman. 
Theories
The sudden nature of the sacking and the vagueness of OpenAI's statement, plus some of the events afterwards have led to speculation by many commentators about the real cause/reason for ousting Mr Altman. Leading theories include. 
Mr Altman may have either told the board about something they didn't like, not told something important (and perhaps been caught out), or may have been outed about something in comments made by other parties. Although this is the board's version, no clear evidence has been made public. However, just prior to his ousting, in TV interviews, Microsoft's CEO Satya Nadella is reported to say that whether Altman and OpenAI staffers would become Microsoft employees was "for the OpenAI board and management and employees to choose" and that Microsoft expected governance changes at OpenAI. He's also quoted as saying that the partnership between Microsoft and OpenAI "depends on the people at OpenAI staying there or coming to Microsoft, so I'm open to both options."
It's also been reported that two senior OpenAI researchers had resigned and that they (and possibly hundreds of OpenAI employees) may join Microsoft, or that Altman may have been planning to start a new company with the open OpenAI employees who'd already left (which the board may have discovered).
Also, shortly after the whole indecent, Microsoft announced that it had hired Altman and Brockman to launch a new advanced-AI research team with Altman as CEO, which may indicate that Altman had already been in talks with Microsoft's CEO Satya Nadella about it, which may have been discovered by OpenAI's board. 
As hinted at in the board's statement, i.e. the part about "OpenAI was deliberately structured to advance our mission: to ensure that artificial general intelligence benefits all humanity," that there was an unresolved issue over bad feelings that the company had strayed from its initial 'non-profit' status. Some commentators have pointed to Elon Musk taking this view and his apparent silence over Altman's ousting as possible evidence of this. 
Another possible reason for ousting Altman is a board power struggle. Evidence that this may be the case includes:
– Mr Altman and Mr Brockman saying they'd be wiling to return if board members who ousted Altman stepped down.
– Following his sacking, OpenAI investors trying to get Altman reinstated.
– Altman and leading shareholders in OpenAI (Microsoft and Thrive Capital) reportedly wanting the entire board to be replaced.
– Reported huge support for Altman among employees.
Interim CEOs
Shortly after Altman's ousting, OpenAI replaced him with two interim CEOs within a short space of time. These were/are: 
– Firstly, OpenAI's CTO Mira Murati. With previous experience in working at Goldman Sachs, Zodiac Aerospace, Tesla, and Leap Motion, Murati was seen as a strong leader who sees multimodal models as he future of the company's AI. 
– Secondly (the current interim CEO) is Emmett Shear, the former CEO of game streaming platform Twitch. Mr Shear said on X about his appointment: "It's clear that the process and communications around Sam's removal has been handled very badly, which has seriously damaged our trust," adding that: "I took this job because I believe that OpenAI is one of the most important companies currently in existence." 
Mr Shear's Plans
It's been reported that Mr Shear plans to hire an independent investigator to examine who ousted Altman and why, speak with OpenAI's company stakeholders, and reform the company's management team as needed.
Mr Shear said: "Depending on the results everything we learn from these, I will drive changes in the organisation – up to and including pushing strongly for significant governance changes if necessary." 
What Does This Mean For Your Business?
Sam Altman has become known as the broadly well-liked face of AI since the introduction of OpenAI's hugely popular ChatGPT chatbot one year ago. He's extremely popular too with OpenAI employees, and other major tech industry figures, including Emmett Shear, who is now OpenAI's interim CEO and Google boss Eric Schmidt who's described Mr Altman "a hero of mine". Also, Mr Altman is very close to OpenAI's major investors Microsoft, and has already been snapped up by Microsoft (along with Brockman) as head of a new AI research team there.
Altman's rapid ousting from OpenAI has not gone down well and all eyes appear to be focused on some of the other members of OpenAI's board, plus the power struggle that appears to have been fought, and what kind of management and governance is needed at the top of OpenAI now to take it forward. It's still early and it remains to be seen what happens at the top following the investigation by interim CEO Shears. Microsoft will doubtless be very happy about having Altman on board which could see them make their own gains in the now highly competitive generative AI market.
With Altman gone, it remains to be seen how/if OpenAI's products and rapid progress and success is ultimately affected. 
Ready to find out more?
Drop us a line today for a free quote!