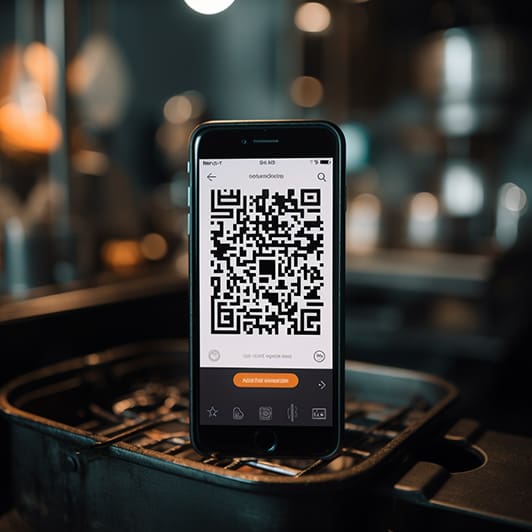 In this tech insight, we look at QR codes, the many different methods to generate them, the benefits of doing so, and the future for QR codes as the successor to barcodes.
What Is A QR code?
A QR (Quick Response) code, first designed in 1994 by Japanese company 'Denso Wave', is a type of two-dimensional barcode. It looks like square grid made up of smaller black and white squares (modules) and typically features three larger square patterns in three of its corners, which help scanners identify and orient the code. The black and white squares within the grid encodes the data. Unlike a one-dimensional barcode, which represents data in a series of vertical lines (which are based on the dots and dashes in Morse code), a QR code stores data in both vertical and horizontal arrangements. This means that a lot more data can be encoded in a QR code than a bar code, and a QR code can contain complex information, e.g. text, URLs, and other data types. 
Making A QR Code
There are several ways you can make your own QR code. If you want to quickly share a URL of interest with others, it's possible to make a QR code in Microsoft Edge that can be shared, and which directs them to that web page. This could be particularly useful if you want to open the same web page on a mobile device or share it with someone else without having to type or text the entire URL. Here's how to make a QR code for a URL in Edge: 
– Open Edge and go to the web page you want to make a QR code for.
– Right-click on a blank area of the web page and select 'Create QR code for this page' and choose either the option to 'Copy' (to paste and share it) or 'Download' (to get a png image download of the QR code).
– A QR code symbol also appears in the right-hand side of the address bar enabling you to re-use the code by clicking on it (which launches another QR code copy/download window).
Making A QR Code For A URL In Google Chrome
To make a QR code for a URL using Google Chrome, the process is the same, but a QR code symbol doesn't appear in the address bar.
Safari?
For the Safari browser, a QR code can't be generated unless a Safari QR code generator extension or an online QR code generator is used.
Online QR Code Generators
You can also use online QR code generators. Examples include https://www.qr-code-generator.com/, https://www.the-qrcode-generator.com/, and many more.
Other Options
Other options for making a QR code include:
– Using open-source software e.g., Libre Office (free open-source software).Open the 'Insert' menu, hover over 'OLE,' click 'QR and Barcode,' and paste in the URL to be converted to QR code.
– Mobile apps for Android's or iOS. These apps often have the function to generate QR codes in addition to reading them. Examples include: QR Code Reader and Scanner, QR TIGER, QR & Barcode Scanner, QR Code Reader, NeoReader, and many more.
– Web browser extensions or add-ons.
– QR Code APIs e.g., QRServer's free API or Goqr.me's API.
QR Codes Will Replace Bar Codes
QR codes are already set to replace bar codes. This will of course mean lower costs for retailers, will have implications for package design (less on-packaging information but more information available to customers), and the positive environmental impact of less packaging. For retailers, this could also mean improvements to inventory management, and it is likely to give greater flexibility to manufacturers and retailers in terms of updating product information. 
What Does This Mean For Your Business?
QR codes provide businesses a streamlined and interactive method to connect with their audience, offering a bridge between the physical and digital realms. By generating and sharing QR codes for URLs, businesses can quickly direct customers to specific online content, whether it's a promotional deal, a digital menu, or an informational page, without requiring users to manually type in web addresses. This eliminates potential errors, speeds up access, and is easy and convenient for customers in a world where most of us now use our mobiles for everything.
Having QR code generation features built into browsers, is also very convenient for users as the creation process is fast, seamless, integrated, and creates something that's easy to share, which helps the business whose URL is being shared. Also, not having to rely upon on external tools or platforms to generate QR codes means that businesses can instantly create, share, and update QR codes directly from their browser, thereby enhancing efficiency and ensuring they can adapt to changing digital needs swiftly.
Being able to generate and share QR codes will soon be more important than ever for businesses with the QR codes set to replace the now 50-year-old bar codes. It should be noted, however, that QR codes can send users to web pages containing malicious code and therefore care should be taken when scanning them to check for authenticity, which could be something as simple as ensuring a sticker hasn't been put over the original code.
Ready to find out more?
Drop us a line today for a free quote!