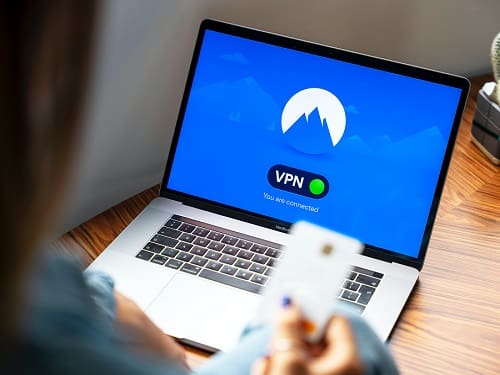 In this article, we take a look at some of the ways users can assess how good their VPN really is.
What Is A VPN?
A 'Virtual Private Network' (VPN) is used to keep internet activity private, evade censorship / maintain net neutrality and use public Wi-Fi securely (e.g., avoid threats such as 'man-in-the-middle' attacks). A VPN achieves this by diverting a user's traffic via a remote server to replace their IP address while offering the user a secure, encrypted connection (like a secure tunnel) between the user's device and the VPN service. This should mean that your Internet Service Provider (ISP) or anyone else cannot read what you're doing while using your VPN.
VPN services apps are downloaded to devices and connected when they are needed, for example, for security when using public Wi-Fi and/or when working remotely.
Other VPN Uses
In addition to security, VPNs can also be used for:
– Hiding where and how you browse from your ISP so the details can't be sold to advertisers or accessed in a data breach of your ISP.
– Accessing the latest film or series in a country where there are content restrictions in place.
Performance
A VPN should be fast and easy to operate and, obviously, secure, as well as being the right price (free ones are available).
Possible Issues With VPNs
Some of the possible issues with VPNs that could affect their performance include:
– Not being fast enough.
– Leaking a user's IP address and/or DNS requests when the user goes online.
– Having broken features that may not secure a user's true Internet Protocol Version 6 address (IPv6), which could expose the user's details to third parties.
– Not having a good VPN 'kill switch' (Network Lock), thereby not keeping data secure if the connection drops for any reason.
– As highlighted by a 2019 VPN Pro study, almost one-third of the most popular VPN services are secretly owned by Chinese companies that may be subject to weak privacy laws.
Checking
Ways you find out if your VPN is satisfactory include:
– Using speed test tools such as the new open-source speed-test tool from NordVPN that allows users to compare the speeds of different VPN services. See: https://nordvpn.com/vpn-speed-test/ for details. Other VPN speed test tools include SPEEDTEST online https://www.speedtest.net/ or app – SPEEDTEST VPN (https://www.speedtest.net/apps/vpn), or by checking online rankings e.g., CNET's comparison (speed and privacy) https://www.cnet.com/tech/services-and-software/fastest-vpn/.
– Check for DNS leaks / perform a DNS leak test to help discover if your VPN is private. For example, see https://www.dnsleaktest.com/, https://ipleak.net/, or https://surfshark.com/dns-leak-test. Connect to a VPN server and load ipleak.net in your internet browser, manually (disconnect) while the VPN client is running and then load some test websites while the VPN is reconnecting. This may identify brief reconnection leaks.
– Check for IP address leaks such as DNS IP leaks (see dnsleaktest.com or dnsleak.com), Torrent IP Leaks – if using Torrent( see http://checkmyip.torrentprivacy.com/), WebRTC IP Leaks from the web browser (use a Chrome extension e.g., such as WebRTC Leak Prevent or WebRTC Prevent Shield), or an email IP leak (see https://emailipleak.com/).
– Check whether censorship can be bypassed e.g., the user switching their VPN on and off while trying to access restricted content.
Limitations With VPN Testing Tools
It should be remembered that VPN testing tools may not be entirely reliable due to limitations such as a lack of transparency in how speeds are measured, their reliability and the verification of their results, and whether they work for a wide range of different VPN providers.
Reviews and Trusted Brands
For many people, a little online research of reviews, rankings, comparisons, and opinions is the most effective way of assessing the comparative effectiveness of a VPN. Also, many people may simply prefer to go with personal recommendations or go with well-known trusted brands when it comes to allaying fears about making the wrong choice or tackling feelings of post-purchase dissonance.
What Does This Mean For Your Business?
A VPN is one of several security tools that are now widely used by businesses/organisations and individuals. There is a wide choice available, and although it seems a fairly simple operation to sign up to one and start using it, making the wrong choice of VPN tool could potentially have serious consequences. Assessing just how good a particular VPN can, in reality, be quite complicated and time-consuming. Online measuring tools and apps can provide a reasonable idea, although they can also lack transparency and reliability. For many users, it's a case of looking at different online comparisons or sticking with/switching to trusted, paid-for brands, or going with personal recommendations.
Ready to find out more?
Drop us a line today for a free quote!