New £1 Billion UK Tech Campus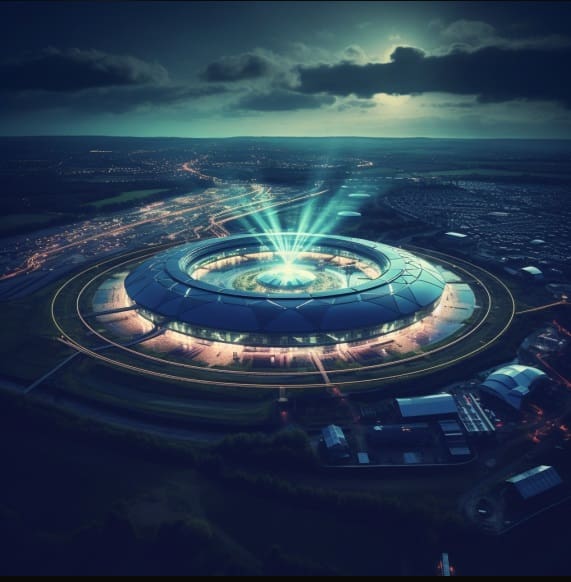 Plans have been submitted for a new £1 billion development in Cheltenham that will include one of Europe's largest tech campuses and will house the National Cyber Innovation Centre.
Cheltenham's Golden Valley Development
Planning has been submitted for what will be called 'Cheltenham's Golden Valley Development,' which is reported to be at the heart of the Government's National Cyber Strategy. As well as being the UK's newest Innovation District (a 47ha site), it will be one of Europe's largest purpose-built tech campus' and is predicted to play a crucial role in achieving the UK's ambition to be a Science and Tech Superpower by 2030.
What Will It Include?
The expansive project, which will be delivered by Developer HBD x Factory Ltd alongside Cheltenham Borough Council and key local partners, will include:
– 1 million sq. ft of new commercial space.
– 1,000 low carbon homes.
– A network of green open spaces with community amenities and a new primary school.
– A new National Cyber Innovation Centre, the proposals for which will be detailed and submitted separately in the new year following last month's £95m funding agreement for the delivery of the "landmark" new building.
Already A Technolgy Cluster – Will Become Even More Attractive
Already home to one of the UK's most significant Technology Clusters, with the largest concentration of cyber companies outside of London, and a diverse selection of businesses specialising in AI, Deep Tech and Future Computing/Quantum, Cheltenham is expected to become even more attractive as a UK tech centre if the development is approved.
A Playground For Innovators
Developers 'HBD x Factory Ltd.' report that Golden Valley will also become a playground for innovators looking to test new, innovative Smart City concepts. 
Councillor Mike Collins, cabinet member for cyber, regeneration and commercial income at Cheltenham Borough Council said of the proposed project: "This is a huge step in the delivery of Golden Valley and I am delighted that we have reached a stage that a planning application has been submitted. Here in Cheltenham, we will be host to an internationally significant cyber and technology focussed campus which, subject to planning permission, will provide the catalyst for delivering economic growth for the town and regeneration of local communities.''
GCHQ Too
Golden Valley will be situated adjacent to the iconic GCHQ building known affectionately as 'The Doughnut' and GCHQ's Paul Killworth, Deputy Chief Scientific Adviser for National Security, said of the plans "GCHQ supports Cheltenham Borough Council's vision of Golden Valley as a thriving, high-tech cluster of cyber and technology firms working across the new campus."  Also, Mr Killworth highlighted how Golden Valley "will lead to a sea-change in national-security relations between government, academia and industry" and how the new National Cyber Innovation Centre and the development of it will become "a key part of the transformation of the intelligence community's Science & Technology effort." 
What Does This Mean For Your Business?
Cheltenham's Golden Valley Development plan sounds as though it could be much more than just a blueprint for infrastructure and could become a beacon of growth and opportunity for businesses across the UK. With a significant £1 billion investment earmarked for what will be (if approved) one of Europe's largest tech campuses, the National Cyber Innovation Centre, and a new commercial spaces, this project is poised to elevate Cheltenham and the surrounding area (which is already a centre for technology) to become an even more formidable force in the global tech arena.
For local businesses, for example, the influx of technology companies provides an opportunity for collaboration and service expansion. The development also promises to create a vibrant community with 1,000 low carbon homes, green spaces, and educational facilities that will attract and retain a talented workforce. For example, the fact that Cheltenham and Golden valley are well connected by train and road with fast direct connectivity to Bristol, Birmingham, London, and other key parts of the country, and are within 90 minutes of 20 universities, could mean it's perfectly placed to attract a wealth of talent, expanding this high-value, high-growth industry.
These elements combined could stimulate the local housing market, increase demand for local services, and generate a variety of job opportunities in construction, retail, and education sectors. Educational institutions in the area may also find new vigour from the development, and could link up to create partnerships, and research ventures.
For the UK's position in the tech world, Golden Valley is one of several strategic moves to fuel the nation's ambition to become a Science and Tech Superpower by 2030. The development will not just be a hub for cyber companies, but may also become a centre for innovation, where smart city concepts and advanced technology can be fostered.
In essence, therefore, the Golden Valley Development could be an investment in the UK's economic and technological future, creating an ecosystem where businesses can thrive, innovate, and connect, thereby setting a new precedent for what a modern tech economy can look like. The development could be an invitation to be part of a future where national security, technological advancement, and economic prosperity go hand in hand and the ripples of this development may be felt not just in Cheltenham or the UK, but across the global stage. If the planning and development go ahead (and as the UK cements its role as a leading destination for cyber expertise), every business connected to the Golden Valley Development may stand to benefit in some way. Fingers crossed!
Ready to find out more?
Drop us a line today for a free quote!