Why Food Delivery App Orders Can Cost Up To 44 Percent More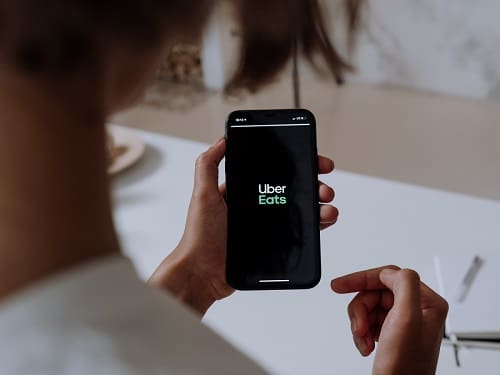 An investigation by consumer champion 'Which?' has revealed that food ordered via delivery apps such as Deliveroo, Just Eat, and Uber Eats can be considerably more expensive than dealing directly with the food outlet.
Food Delivery Apps
Seven out of 10 people in the UK (Which? survey) say they now use food delivery apps. Popular delivery apps such as Deliveroo, Just Eat, and Uber Eats work by allowing customers to place food orders from different restaurants and fast-food outlets in an area using an app on their smartphone or tablet device. Once the restaurant receives, accepts, and confirms a paid-for order, the nearest delivery person is directed to the restaurant from where they take the prepared food to the customer using the navigation in the app. Customers can check the delivery person's status, location, and ETA on the app.
Deliveroo and Uber Eats have also now added groceries to their platforms so the above process differs slightly in terms of order-picking and delivery method.
Price Differences
The 'Which?' survey showed that ordering via the apps cost significantly more than ordering directly from the restaurant, even when delivery costs are accounted for. This is because in addition to individual items varying in price, there are also commission charges for the restaurants which may be reflected in higher pricing.
Comparison
In the Which? survey, a comparison was made between the cost breakdown and price of the same dishes (Chicken Shish & Mixed Grill) ordered from the same Lebanese restaurant, but using the three different Deliveroo, Just Eat, and Uber Eats delivery apps. The results showed that ordering a Chicken Shish direct from the restaurant cost £12.95 but ordered via Deliveroo and Just Eat the price was £13.95, and £14.95 via Uber Eats.
The Which? survey also compared the purchase of the same groceries purchased direct from the Co-Op, and purchased using the Deliveroo App. The total price of a direct purchase was £35.40, whereas the price of purchasing the same groceries using Deliveroo was found to be £48.09, a whole £12.69 more!
Commission Paid To Apps
According to Which? the extra expense appears to be down restaurants simply charging more to get back some of the money they must pay out in commission to the apps. The commission can account for anywhere between 15 percent and 35 percent of the total cost of an order. Delivery apps such as Uber Eats, for example, may offer participating restaurants a zero percent commission for the first 40 days before moving the commission rate up.
The Which? report suggests that with delivery app services essentially taking over from people going to the high street during the pandemic lockdowns, restaurants may have felt as though they were faced with the choice being of Deliveroo (for example) and at least getting some business while having to put up with the commission payments, or not being on Deliveroo but essentially becoming invisible and potentially going out of business. The evidence presented in the Which? report also appears to show that for some restaurants with higher running costs, the commission charges of the app delivery service may make using the service unviable.
Customer Complaints
The Which? survey appears to show that even though customers are having to pay more to have their food delivered, they are not always receiving value due to problems often related to delivery. For example, 59 percent of Deliveroo users and 53 percent of Uber Eats customers reported problems with their orders over the last 12 months. The most common complaints were found to be late delivery, cold food and missing items.
Complaint Complications
It also appears that the fact that there is an extra, third-party service involved (i.e. the delivery app) means that in some cases, customers can find themselves being passed around between the app and the restaurant if they complain and so they don't always receive a satisfactory resolution.
Resolution Complications
The Which? survey also found that although consumer law states that customers should get what they paid in the first place as a refund, in some cases, customers have been offered an in-app credit with an expiry date instead of a full refund.
Amazon and Deliveroo
Back in April last year, after the UK Competition and Markets Authority's (CMA) had considered competition concerns, it was decided that Amazon could invest in food distribution company Deliveroo. Amazon had previously operated its own 'Amazon Restaurants' food delivery service in London, but this was closed in December 2018 following strong competition from Deliveroo, Uber Eats, Just Eat, among and others.
What Does This Mean For Your Business?
Convenience is the big selling point for delivery app customers and there's no doubt that despite the higher price (compared to direct ordering) these app-based food delivery services have provided an extra layer of value during the pandemic when high streets were effectively closed. For participating restaurants, the app-based delivery services have also provided a lifeline during the pandemic, but one that comes at a cost (i.e. commission paid to the app). There may be an argument, therefore, that now that high streets are again accessible, ordering direct has to be a serious option for customers, not least because the price is lower, but also because any problems are likely to be easier to resolve. For restaurants, although they may receive many orders from app-based delivery services, the ideal situation would be to have more customers ordering direct, thereby cutting out the need for any commission payments.
Ready to find out more?
Drop us a line today for a free quote!