Robot Police Dog Sent Back With Tail Between Its Legs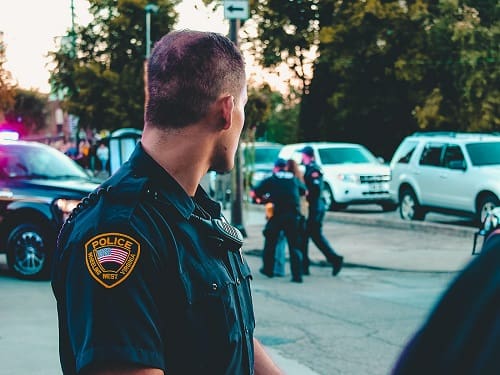 It has been reported that NYPD has cancelled its contract with the company that supplied its 'robot dog' after the robot's militarised appearance increased tensions with civilians at a difficult time for police relations.
What Robot Dog?
The robot 'dog' nicknamed 'Digidog' was ordered last year by the NYPD from specialist robot company Boston Dynamics and was intended mainly for use in barricade and hostage situations, and as part of the Technical Assistance Response Unit, which is used for land-based (remote) surveillance. It has been reported that although 500 Boston Dynamics robot dogs have been deployed worldwide, the NYPD 'dog'/robot is one of only four used by police departments. The others are used (e.g. by utility companies) on construction sites or in other (potentially dangerous) commercial settings. The four-legged, metal robot dogs can run, jump, climb stairs, balance, and are difficult to push over. They can also carry cameras, lights, and transmitters, and therefore, can be used for mobile surveillance. The robot dogs are guided by AI.
Old-Style Police Robots
Robots being used by police in situations that are too dangerous for humans are not unusual. For example, since the 1970s the NYPD has used robots in hostage situations, for bomb disposal, and for other hazardous tasks and challenges. The Boston Dynamics robot, however, is more sophisticated, capable, and dextrous than those early robots.
What Went Wrong With 'Digidog'?
Digidog's deployment to an incident in the Bronx, the footage of which was published online in February, appears to have caused alarm and criticism among members of the public. This alarm has been heightened by the recent high-profile incidents of police killings of black citizens, and the resulting protests. The footage of the robot following officers back, after the incident, has led to comparisons with fictional characters like the Terminator and Robocop, and has led to comments that the robot was 'creepy' and like something from a Dystopian future. Other criticisms have focused on worries that the deployment of such technology is too far ahead of regulation, whether it was wise or right to spend the money on a robot when the pandemic had squeezed finances. Some have also asked questions about whether spending on a robot should have been prioritised over the need for investment in the area of the city where it was filmed. A (Fox) news report of the Digidog deployment in the Bronx, which also highlights its potential benefits, can be seen here: https://www.youtube.com/watch?v=24jufNhuUSI.
2016 in Dallas
The last time there was a serious outcry over a crime-fighting robot was back in 2016 when a gunman suspected of murdering five police officers was blown-up using a robot.
Cancelled
The public concern over Digidog is now reported to have led to NYPD cancelling its ($94,000) contract with Boston Dynamics which was not due to expire until August 2021.
'Spot' in Singapore
Boston Dynamics made the news back in May 2020 when a similar robot, dubbed 'Spot', was given a trial in Singapore's Bishan-Ang Mo Kio Park warning visitors to observe safe social distancing measures. Spot was allowed to roam the park, using its AI guidance system to avoid bumping into people and objects, and broadcasted a pre-recorded message about social distancing. A video of 'Spot' in action can be seen here: https://www.youtube.com/watch?v=pz7A8Umw5zY .
What Does This Mean For Your Business?
Robots are nothing new in business (e.g. the car industry, warehouses, and factories, even parcel delivery) and some robots even made the news for been used as mobile food distribution services on U.S. university campuses for students isolating during the first lockdown. Robots have also proven extremely useful in law enforcement and situations where the risk to humans is too great, e.g. bomb disposal, hostage incidents and more. This 'Digidog' robot, however, proved to be an example of deploying the wrong piece of machinery at the wrong time in the wrong place. The combination of a general deterioration in trust of the police (due to high profile killings of black citizens), deploying the 'dog' in a city area such as the Bronx, and the potentially threatening/creepy appearance of a four-legged metal (surveillance) robot proved to be too much. This, in turn, prompted uncomfortable questions and raised tensions to the point where the damage exceeded the benefits of the deployment of the robot. Public surveillance is a contentious issue on its own, and overt law enforcement tools and methods are also a matter of public interest, and the deployment of this robot brought the two together with the added fear of dystopian imagery. It begs the question of whether, if the robot has a 'friendlier' looking form (and didn't walk on legs) it would have created so much interest and tension?
It is likely that more robots and drones will become commonplace and will fulfil productive, resource-saving, and day-to-day roles in ways that meet with public approval, but the sight of four-legged police robots, like a feared character from a sci-fi film, is something that the public may not yet be ready for and will not quietly accept. It is back to the drawing board for both the design of such robots and for those involved in ensuring that regulation, particularly of the use of AI (as is happening at the EC at the moment) keeps pace with its deployment.
Ready to find out more?
Drop us a line today for a free quote!