Online Ad Updates 30th May 2019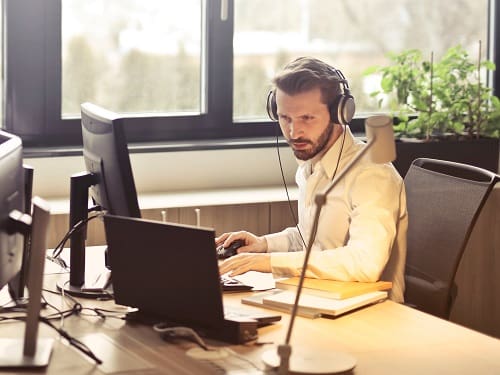 The news this week finds Facebook unveiling its new design along with new ad simplification resources for video marketing, big changes for Google analytics and tag management and more …
Facebook Is Simplifying Video Ad Buying For Digital Marketers
Last year, Facebook unveiled ThruPlay. ThruPlay was a unique way in which video content could be optimised and ads would be chargeable when users watched at least 15 seconds (or all of the ad – depending on which comes first). This has helped video advertisers use Facebook's demographic and user base to help drive greater brand awareness.
The latest developments now see ThruPlay becoming the 'default' optimisation standard for Facebook video marketing campaigns.
According to Facebook:
"Making ThruPlay the default optimization for video views campaigns will help simplify our video ad buying options and better align our offerings with what advertisers value. Starting in May, we will begin a phased migration from 10-second video views to ThruPlay optimization.
And starting July 31, we will pause existing campaigns that use 10-second video views optimization, so be sure to adjust any campaigns you're running using 10-second video views optimization to now use ThruPlay optimization.
We're always working to evolve our optimization and measurement options to help businesses succeed, and we're confident this change will help simplify the video ad buying process and drive the results businesses care about most."
If you would like to learn more about ThruPlay, visit Facebook's useful ThruPlay learning resource to see how video marketing on ThruPlay could help improve your brand's awareness on Facebook.
PinInterest & Quora Become Approved Google Tag Manager Vendors
Big news? Well, yes. As alternative advertising platforms blossom and as more ad-cash is poured into alternative platforms, having the ability to track user behaviour can help marketers identify trends and outcomes – thus helping to drive brand success.
The latest developments to Google Tag Manager now finds native integration for Quora and PinInterest. According to Marketing Land, the news is important:
"The native integrations for Quora and Pinterest makes it much easier to set up those pixels in Google Tag Manager (GTM) to track ad campaign performance from those channels. No more having to create a custom HTML tag in GTM.
Within GTM, you can set up your pixels from channels to track user behaviors such as viewing a piece of content, or adding items to the cart, without having to alter the code base.
Currently, Pinterest and Quora's Google Tag Manager integrations only support tacking from websites not apps, according to Google's supported tag manager list.
More on that news : 
– Both Pinterest and Quora shared quick steps for adding each platform's tags into your Google Tag Manager account: Pinterest instructions are here. Quora instructions are here.
 – Google Tag Manager currently supports more than 80 websites natively, including LinkedIn, Twitter, Adobe Analytics, Microsoft Ads and more."
Facebook's Profitable Success Thanks To Stories Ads
Facebook saw $14.9 billion ad revenue in the first quarter of 2019 – of which 93% of ad revenue came from mobile ads. Facebook Stories Ads, similar to Facebook-owned Instagram Stories Ads, allow for greater optimisation for greater brand awareness thanks to a full-spectrum suite of targeting and measurement capabilities.
The growth in Stories Ads has helped to boost Facebook's profitability. Facebook's executive team, as reported in Marketing Land, argues :
"Impression growth was primarily driven by ads on Instagram Stories, Instagram Feed and Facebook News Feed," said CFO David Wehner. He said that the year-over-year decline in average price per ad reflects an ongoing mix shift towards Stories Ads and geographies that monetize at lower rates. According to the Wehner, Facebook saw the strongest ad revenue growth come from the U.S. and Canada at 30%.
COO Sandberg noted that the top 100 advertisers on Facebook account for less than 20 percent of the company's total ad revenue. "Our advertiser base is more diverse compared to the same period over last year," said Sandberg."
This news (post-Cambridge Analytica) highlights the strength of Facebook's trust from the advertising and marketing communities. It also provides Facebook with a sound platform as it repurposes Facebook in a privacy-focussed user experience which will see Facebook change the way it uses data and shares that data with advertisers.
Google's Insight Tools Find Greater Reporting Outcomes Thanks To Google Analytics and Google Ads Synergies
As marketers become more curious and more outcome-focussed, the power of analytics has never been more important. Google has unveiled new guides to help SME marketers leverage the power of analytics when developing marketing campaigns across the Google family – more specifically between Google Analytics and Google Ads.
"Today's customers are deeply curious, searching high and low for information about a product before making a purchase. And this curiosity applies to purchases big and small—just consider the fact that mobile searches for "best earbuds" have grown by over 130 percent over the last two years. (Google Data, US, Oct 2015 – Sep 2016 vs. Oct 2017 – Sep 2018. ) To keep up with this curious customer, marketers are putting insights at the center of the strategy so that they can understand customers' intentions and deliver a helpful, timely experience.
In our new guide about linking Google Analytics and Google Ads, we explore the broad range of reports available in Analytics. These reports give you crucial insights about the customer journey that can then be used to inform your campaigns in Google Ads. Here's what you should know about the A-B-Cs of reporting."
Facebook's Major "Re-Design" And What It Means For You
Facebook recently unveiled a total re-design of its Facebook user experience. The move away from public content to private engagement – with more paid posts seeing lesser engagement whilst private groups flourish – highlights the changing ecosystem within Facebook.
As a result, Facebook have put privacy front-and-centre in terms of this new 're-design' experience. The design is also simpler, quicker and faster to load which is a nod to the current Facebook problem in developing nations (with questionable internet access).
According to Social Report, these changes will impact marketers:
"The main takeaway from the new Facebook redesign is that groups will continue to dominate the Facebook marketing space.
But this is no new trend. We've been huge proponents of Facebook groups since Facebook changed its algorithm to prioritize content from groups and other "content that matters" on the Newsfeed last year.
When Facebook changed its algorithm, it plummeted organic reach for Facebook pages. At the same time, however, Facebook gave groups more organic reach—even if they're run by a brand.
This groups-focused redesign shows us that Facebook is continuing its commitment to Facebook groups, and that we'll continue to see the platform prioritize content from them indefinitely.
So if you're not already embracing Facebook groups, now's a good time to start. Check out our full guide to branded Facebook groups—here, we take you through the process of creating a group, discuss the types of content you should post, and more."
Ever Wanted To Know How To Create a Google My Business Account For Your SME Business?
The boys and girls at Social Report, always wanting to help small business marketers diversify their marketing approaches, have created a useful guide for SME marketers looking at creating a My Business account with Google.
The guide helps illuminate unsure marketers about the uniqueness of My Business from Google. The service which is half social network and half Google advert has created a big buzz but also a lot of uncertainty. To help clear things up, this guide can help you understand the merits of My Business by Google.
The bottom line? My Business from Google can help improve your Google listing experience by providing your business with a platform to help create strong engagement links and brand awareness through the Google family of services. Sign-up today to help your local business flourish on My Business from Google.
Until next time, if you (or anyone you know) needs help with online advertising, get in touch …
Mike Knight. MBA, FCIM.  www.mklink.com
Ready to find out more?
Drop us a line today for a free quote!