Featured Article – How Dark Mode Can Help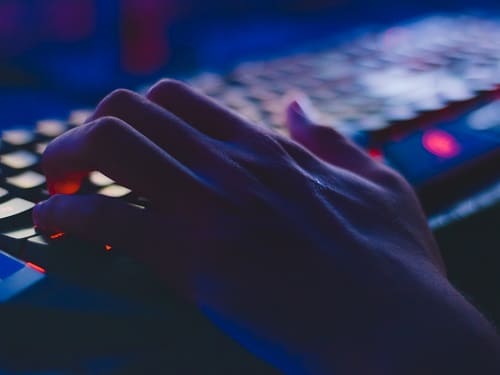 If you've heard about (or already use) 'dark mode' for apps and devices but don't know much about it, here's a look at why it has been introduced, whether it delivers real benefits, and how to turn on dark mode in different operating systems and apps.
What Is Dark Mode?
Dark mode/dark theme/night mode is a light-on-dark colour scheme for operating systems that use light-coloured text, icons, and graphical user interface elements on a dark background. Dark mode can be used on Android, iOS, PCs, Macs, and individual apps.
Good For Health and Battery Life?
The main reasons for operating systems and apps offering dark mode appear to be that:
– It could be better for health in terms of reducing the risk of eye strain where you may have been looking at the screen for a long time and/or you are working into the night.
– Dark mode consumes less energy and is less likely to drain your battery.
– It is aesthetically pleasing to use and is valued by many users and can feel like a more comfortable alternative when working in dimly lit environments.
– Dark mode is found to be helpful by gamers.
– Having light text on a dark background can make the text more legible/readable. There is some research evidence to support this – 2013 Research by psychologists Cosima Piepenbrock and Susanne May.
– It could be a way to help individuals with light sensitivity or visual impairments (According to Jonathan Chow, a senior UX designer at Reddit – see below).
Proof?
The issue of whether dark mode is better for your health (vision) is now a contentious one. Reference can be found in many places on the Web to a 2018 article in 'Popular Science' (by Eleanor Cummins ) which offers insights by Jonathan Chow, a senior UX designer at Reddit, into how dark mode could help, but the article doesn't deliver scientific proof as such.
Whether dark mode can save your battery power in your phone, for example, depends on the type of screen you have. An organic light-emitting diode (OLED) screen makes pixels light up or turn off individually. This means that in dark mode, pixels that show as black are de-activated, thereby saving energy. With LED screens, even pixels that display as black are activated/lit up, therefore, meaning that there is no real energy-saving benefit. The iPhone X, for example, was the first Apple phone with an OLED screen.
Different Times
Different tech companies and app-makers added dark modes/dark themes to their products, platforms, and systems at different times. For example, Google introduced dark mode to Android back in November 2018 (to save battery life), while Apple announced the introduction of a light-on-dark mode to all native applications in iOS 13 and iPadOS in June 2019. A timeline of when different companies introduced dark mode can be found in the 'History' section of this page: https://worddisk.com/wiki/Dark_mode/.
A full list of apps offering dark mode can be found here: https://darkmodelist.com/.
Facebook Introduces Re-Design With Dark Mode
Facebook has only just (May 2020) introduced its re-designed desktop site which now includes dark mode. This can be switched on by clicking on the down arrow (end of the upper menu bar) to pull up the old Facebook's settings menu, clicking on "Switch to new Facebook", then clicking the same down arrow and toggling dark mode from off to on.
How To Turn On Dark Mode
Here is brief summary of how to turn on dark mode for different Operating Systems and apps:
iOS
To get dark mode in iOS, swipe from the home screen to go to the control centre and go to settings, tap 'Display & Brightness', tap either 'Light' or 'Dark' to choose which appearance you prefer. After turning it to automatic go to 'Options' to choose when dark mode comes on e.g. sunset to sunrise every day or at certain times.
Another way to achieve the same thing is to go to settings, tap 'Display & Brightness', tap either 'Light' or 'Dark, and tap the toggle underneath to set dark mode to come on automatically. As before, after turning it to automatic go to 'Options' to choose when dark mode comes on e.g. sunset to sunrise every day or at certain times.
Android
Dark mode/dark theme, which became available for Android (10) in November 2019 can be operated by going to Settings, 'Display', 'Advanced' and then using the dark theme on/off toggle. This can also be done via the quick settings in the notification bar.
Mac
Dark Mode on an Apple Mac can be turned on by going to the Apple menu (top left), choosing System Preferences, and choosing the 'dark' option. Dark mode works on macOS Mojave or later for any Apple program and many third-party apps.
Windows
To enable dark mode on Windows 10, go to Settings, Personalisation, Colours and choose the default windows app mode as light or dark.
Edge also has a dark mode option. To enable it, go to the menu (top right) and select 'Settings' from the dropdown list, and then choose 'dark' from the themes options (light or dark).
Apps
Some apps allow dark mode. For example:
WhatsApp – tap the three dots (top right corner), select Settings, and under Chats choose the dark theme as the system default.
Twitter – On mobile, tap your profile picture, go to Settings and Privacy, then Display and Sound, and switch dark mode on. On the desktop, click the three dots (left menu), select Display, and choose lights out and dim options.
Gmail – go to the three lines (top left on mobile device), scroll and tap Settings, then General Settings, and choose dark as the system default.
What About Night Mode and Blue Light?
The current thinking, which has led to manufacturers adding filters to our devices (e.g. Night Shift in the iPhone 11 and even the Windows 10 Night Mode) that show warmer colours at night is based on the idea that too much exposure to artificial blue light emitted by our devices at night is bad for us. For example, too much blue light displayed on the screen of a device has been thought to suppress the production of sleep-inducing hormone 'melatonin', hence the need to filter out the blue and replace it with warmer colours. Samsung also suggests that its filter could "reduce digital eye strain".
Recent University of Manchester research, however, has shown that this popularly accepted wisdom may be wrong and that, in fact, the warmer colours of filters are more likely to suppress the production of melatonin than the blue light glow from our devices.
In Conclusion
Even though there are questions about scientific proof that claims certain health benefits, dark mode appears to be popular with customers in terms of aesthetics and reading in dimly lit environments, plus competitors have introduced it, thereby making it something that tech companies feel they have to offer anyway. For mobiles, having dark mode with an OLED screen can save battery power, so there is also some practical value for many users to enable dark mode.
Ready to find out more?
Drop us a line today for a free quote!