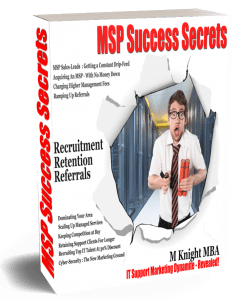 "MSP Success Secrets"
If you'd like your MSP to benefit from the contents of this new book, just complete your details below.
As well as the online version, you'll also receive the printed version via Royal Mail when it's shortly made available, at no cost.
With the author having interviewed several hundred MSP and IT companies across the UK, US and Australia and identifying certain patterns of success (and failure) here's your chance to get the all the benefits of how to rapidly grow a successful IT support business, whilst avoiding the common pitfalls. The book is strewn with examples and  case studies of what's worked … and what's bombed.
You'll also receive details about membership of our MSP Marketing Club.