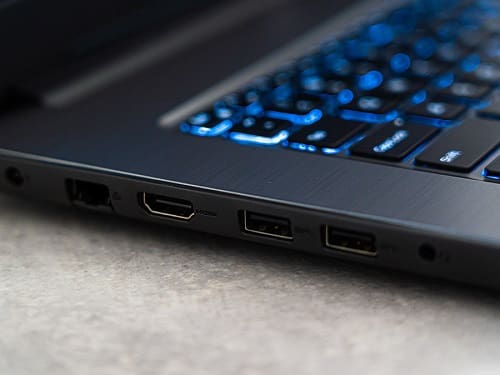 Following the announcement by the USB Promoter Group of the imminent arrival of the new USB4® Version 2.0 connectivity standard, we look at what is, and what advantages it offers.
What Is USB4 Version 2.0?
USB4® Version 2.0 specification (USB4 2.0) is the name for the newest Universal Serial Bus standard, which is the plug-and-play external interface used on computers and other digital devices to transfer data through a cable. USB4 is a new standard of connectivity, and as new standards and versions come along, the newest ones tend to have faster data transfer rates than the previous ones. When released, USB4 2.0 will be one of the fastest connectivity standards available, beating Thunderbolt 4.
This new Next generation USB standard follows on from USB 3.2 (SuperSpeed USB), which was introduced in February 2019, and marked a new level of data transfer speed reached for the standard at 20 Gigabits per second (Gbps), and 40 Gigabits per second (Gbps) using Intel's Thunderbolt 3 port (later made available generic USB-C® ports).
How much of an improvement is USB4 2.0?
The USB Promoter Group, the group of tech companies that develops the USB family of specifications, says that the USB4® Version 2.0 specification is "a major update" which will "enable up to 80 Gbps of data performance over the USB Type-C® cable and connector". This will be a doubling of data transfer speeds over the existing standard.
The USB Promoter Group, which includes Apple Inc., Hewlett-Packard Inc., Intel Corporation, and Microsoft, also says that the USB Type-C ® and USB Power Delivery (USB PD) specifications will also be updated to enable this higher level of data performance.
Other improvements that the release of this new connectivity standard will bring include:
– Updates to data and display protocols to better use the increase in available bandwidth.
– USB data architecture updates that enable USB 3.2 data tunnelling to exceed 20 Gbps.
– Alignment with the latest versions of the DisplayPort and PCIe specifications.
– Backward compatibility with USB4 Version 1.0, USB 3.2, USB 2.0, and Thunderbolt™ 3. This means that the new standard can be used with existing USB cables rather than having to buy new ones, i.e. existing USB4 cables that can currently hit 40Gbps will be able to hit 80Gbps when the new standard is released.
– When performing two simultaneous tasks, USB4 2.0 can prioritise how much data to send to each, thereby minimising disruption for each task. For example, using USB4 2.0 for simultaneously supplying video to a monitor and saving files to an external drive will not adversely affect the video.
Criticism
Although the promise of double the data transfer rate using your existing cables sometime in the near future is good news, some critics have questioned why there wasn't simply a push for USB5 rather than a new version. Others have noted that the wait for new branding and marketing guidelines could mean that users may still need to be careful when buying USB-C cables, and that specific and often expensive cables have been required to take advantage of the features of the standard up until now, with the idea of a cheap, standard, single connector still seemingly a long way off.
What Does This Mean For Your Business?
A doubling of data transfer speeds over USB Type-C® cable and connectors, without the need to buy new cables to get the new speed is likely to be very good news, particularly for developers at whom the update is targeted at this time. Also, as the USB Promoter Group's Chairman, Brad Saunders, points out: "Solutions seeing the most benefit from this speed enhancement include higher performance displays, storage, and USB-based hubs and docks." Although the news of the impending introduction of USB4 2.0 has been generally well received, it has been noted by some that a lag before branding and marketing guidelines catch up could mean that consumers need to be careful when buying USB-C cables, and that the ease and conveniences of being able to buy cheap standard cables and connectors are still a way off.
Ready to find out more?
Drop us a line today for a free quote!