What's In The New iOS 17 iPhone Update?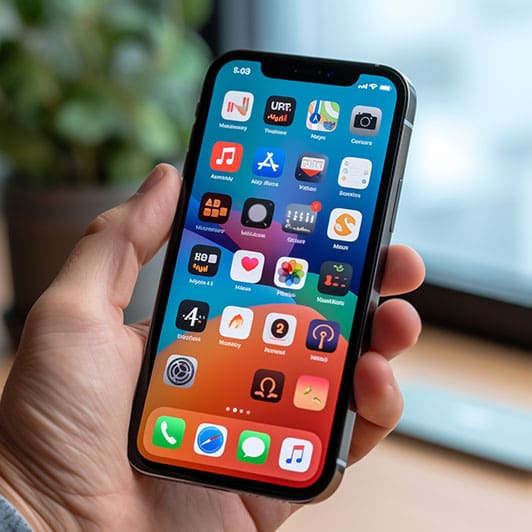 With the recent release of the latest update of Apple's iPhone software, iOS 17, we look at many of the useful new features and their benefits.
What's Happened?
Apple recently released a new updated version of its iOS (iOS 17), which contains many new features, security updates and fixes for Apple's iPhone, iPad, and smartwatch. It has also subsequently released the iOS 17.0.2 update to fix an issue that prevented transferring data directly from another iPhone during setup, and the iOS 17.0.3 update to fix a recently reported overheating issue in Apple's newly launched iPhone 15. The recently launched iPhone 15 range includes the iPhone 15 Pro with a titanium finish.
The iPhone X, however, and the iPhone 8 and 8 Plus have not been included in the update (although the iPhone 8 and 8 Plus will still receive security updates).
New Features of iOS 17
Some of the key features of note of iOS 17 include:
Upgraded Autocorrect
An upgraded autocorrect that learns the user's normal language, allows swearing (and doesn't substitute with the word "ducking"), reverts corrected text by tapping on the underlined where needed, and can predict full sentences during typing.
Standby Mode – More Like A 'Hub'
The new Standby mode (which can be particularly useful when leaving the phone by the bed) gives a full landscape, hub style display while charging which includes the clock, calendar, weather, photos, chosen widgets, Siri interaction, and more.
Greater Personalisation Through Contact Cards
Changes to calls and messaging sees Apple introduce greater personalisation through customisable contact cards, whereby users can create their own personalised visual cards (including a photo, text, and customisable colours) that display on the recipient's phone and in their contacts app when calls are made. This could, of course be very useful in business interactions, e.g. including company information / branding elements in the card, displaying creativity, and creating a memorable identity that stands out.
AirDrop – Seamless Sharing of Cards
Also, the contact cards aren't just for viewing. The (seamless) AirDrop function allows users to share cards (like swapping a digital business cards) by bringing two devices close together.
Voicemails Get Live Transcriptions
Voicemails have also been updated with live transcriptions that allow users to quickly grasp the essence of every message, such as if there's background noise or if you're multi-tasking at the time, plus FaceTime allows video voicemails.
Voice Cloning!
A voice cloning feature allows users to create an audible version of any typed phrase, thereby helping with accessibility and adding a new AI dimension to communications.
Siri Refined
Siri, Apple's voice assistant, has also been refined to enable users to adjust Siri's speaking pace thereby catering to diverse listening preferences, and activation can now happen simply by saying "Siri" rather than "hey Siri."
Privacy And Security Updated
Privacy and security, two elements that are particularly important to businesses, have been updated with iOS 17, as users can securely share passwords stored in their iCloud Keychain with trusted individuals. Also, Apple's Safari browser has fortified its privacy stance by introducing facial recognition for private sessions. Users also get another useful heads-up in the form of receiving alerts before accessing potentially sensitive content.
Photo Recognition
iOS 17's people album photo recognition also promises to be a helpful feature, e.g. with identifying people in business event photos, favourite people, and even family pets according to Apple.
Food Images – Suggestions
For those in the food business or needing to find content about food (or simply food and cookery enthusiasts), tapping on a shared food image adds a culinary twist by offering recipe suggestions.
Paying Attention To Mental Wellbeing – Health App Updated
Particularly since the pandemic, our mental wellbeing has been more in focus and Apple's health app, traditionally associated with tracking physical activities, now ventures into the realm of mental health. Users can monitor their moods, thereby providing insights into patterns that might indicate anxiety or depression.
iPadOS 17
With the update, Apple's iPadOS 17 now has a suite of features tailored for the larger screen. The lock screen has received a lively makeover, allowing users to infuse it with widgets and animated wallpapers, thereby allowing more personalisation and convenience that could help with time-saving and productivity.
Also, the Health app (as highlighted above, with its new mental health focus) debuts on the iPad, sporting a refreshed interface and extensive health data insights.
Multitasking has also received a boost, with users now having the freedom to resize and position apps on the screen, closely mirroring a desktop experience.
WatchOS 10 Too
With smart wearables now very popular, Apple's watchOS 10 has also received updates including the integrated apps getting vibrant redesigns that focus on user-friendliness and quick access. For example, directly from the watch face, widgets dynamically update based on several user-specific parameters, ensuring relevant information is just a swipe away.
Choice, in terms of the range of watch faces available has been expanded, e.g. with animated faces like Snoopy and Woodstock, and even a cycling feature that transforms the iPhone into a surrogate bike computer when paired with the watch.
What Does This Mean For Your Business?
Apple's iOS 17's new features, and its new iPhone 15 launch, although marred slightly by the new phone having an overheating problem (plus a radiation-fear-fuelled banning of iPhone 12 sales in France), have given Apple something positive to shout about (and bury any less welcome news).
In the dynamic landscape of UK businesses, where agility and efficiency are paramount, Apple's iOS 17 looks like offering enhanced productivity and a more sophisticated user experience. The introduction of customisable contact cards in the phone app, for example, offers businesses a modernised touchpoint, facilitating more personalised and streamlined digital communications with clients and partners. The innovative live transcription of voicemails allows businesses to rapidly digest essential information, potentially optimising response times and decision-making processes.
Also, the significant (and always welcome) advancements in privacy and security, including the ability to securely share iCloud Keychain passwords and safeguard private browsing sessions with facial recognition, promise to embolden businesses with heightened digital safety, hopefully helping to ensure that confidential business data remains uncompromised.

AI is making inroads everywhere it seems, and the photo recognition's intuitive capabilities may be particularly useful in sectors like marketing and retail, enabling businesses to better categorise visuals and tailor marketing strategies.
The mental health tracking in the health app underscores a broader shift towards corporate well-being, allowing businesses to foster a more supportive and aware work environment.
Meanwhile, iPadOS 17's multitasking enhancements echo the needs of dynamic enterprises, making workflow management and multitasking more like a desktop experience, thereby potentially aiding operational efficiency.
Ultimately, the suite of features presented in iOS 17, and its counterparts for iPad and Watch, could enhance the operational, communicative, and strategic dimensions of UK businesses. Apple is keen to show its commitment to the UK (e.g. with its 500,000 sq ft, six-story space inside Apple Battersea Power Station) and its contribution to the economy (claiming it supports more than 550,000 jobs across the country), and although most businesses use Microsoft rather than Apple products, Apple's reputation for usability, security, and quality in the UK is likely to be enhanced by the iOS 17 update's new features.
Ready to find out more?
Drop us a line today for a free quote!