iPhone 15 Overheating Problems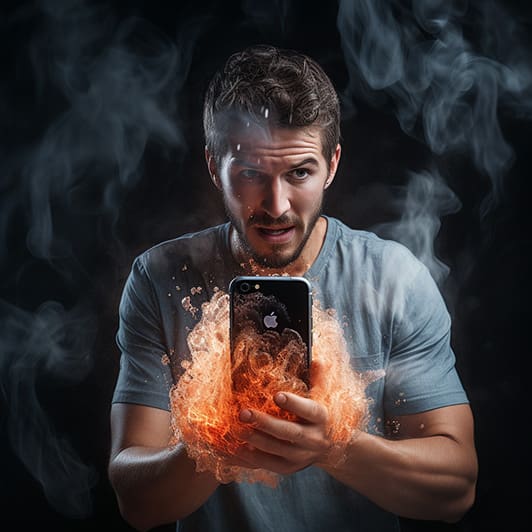 Following complaints from customers about an overheating issue with the Apple iPhone 15 Pro and iPhone 15 Pro Max, Apple is reported to have issued a statement explaining the causes, with a promise that it'll be fixed with an update.
Overheating
Since the iPhone 15 went on sale in September, some customers have been taking to social media to report that their devices had been heating up to the point that they were too hot to touch. The Apple iPhone is powered by the new iOS 17 system.
Speculative Causes
Some of the user speculation about the possible causes of the overheating has included blaming the new titanium casing because it may be less effective at dissipating heat than the old stainless steel casing, the introduction of the new USB-C port to comply with European law (Apple has been forced to replace its 'Lightning Cable'), and the new Taiwan-made A17 Pro chip.
Apple has denied that the casing or the USB-C port have been a cause of the overheating and has also said that it will not be reducing the performance of the new chip as a way of preventing overheating.
The Actual Causes (According To Apple)
In a statement issued to many of the main media channels, Apple has acknowledged the issue and identified what it believes the conditions that may be causing phones to "run hotter than expected." In the reported statement, Apple identified these as the causes of the overheating:
– Increased background activity in the first few days after setting up or restoring the device.
– A bug in iOS 17 (Apple's latest operating system, released September 18 this year).
– Recent updates to third-party apps that are causing them to overload the system. It's been reported that these updated third-party apps include Instagram, Uber, the and the Asphalt 9 video game app. Uber is already reported to have fixed the issue with its app.
Will Be Fixed With An Update
Apple has assured users that the problem isn't dangerous and that it's working on a bug fix update for the iOS17 system as well as working with the apps that were running in ways that contributed to the system overload and subsequent overheating.
Recent Woes With iOS 17 And The iPhone 12
This latest overheating problem adds to a string of bad publicity and their likely negative effects on sales and reputation. For example:
– Apple's iPhone 12 sales recently being banned in France over fears that it could be emitting dangerous radiation. Apple has disputed ANFR test findings that led to the ban but has opted for a software update to fix any radiation issues because it had a limited time to comply, and other countries were threatening sales bans too.
– Just days after the iOS 17 launch, Apple had to release the iOS 17.0.1 and iPad OS 17.0.1 security update to fix three critical vulnerabilities, all of which may already have been actively exploited against versions of the iPhone OS before iOS 16.7.
What Does This Mean For Your Business?
It must be particularly frustrating for Apple that just as it was about to launch the iPhone 15, it was facing sales bans of the iPhone 12 based on a report in France showing a slightly high radiation 'limb SAR' value (which Apple disputes), followed by the need to issue a security update to its iOS 17 just days after its release.
Now it's facing reports from angry customers about overheating of its latest iPhone release – they say trouble comes in threes. Any reports of overheating phones and radiation, for example, are likely to trigger fears about fires and cancer risk among consumers. The iPhone 12 sales ban must have hit sales, and overheating may also be a turnoff to customers plus a chance for Apple's competitors to pick up sales. Bearing in mind what seems like a succession of issues, which could potentially chip away at the reputation of iPhones being a safe and secure choice, it's not surprising that Apple has sought to get updates out there as quickly as possible, challenged the speculation, and issued a statement for the media to report. It remains to be seen if the updates fully fix the issues and silence the criticism and Apple must be hoping (and trying to ensure) that attention can soon be shifted to the positive aspects of the new features of its new phone and OS rather than the potential risks they may pose.
Ready to find out more?
Drop us a line today for a free quote!