Apple's New 'Business Essentials'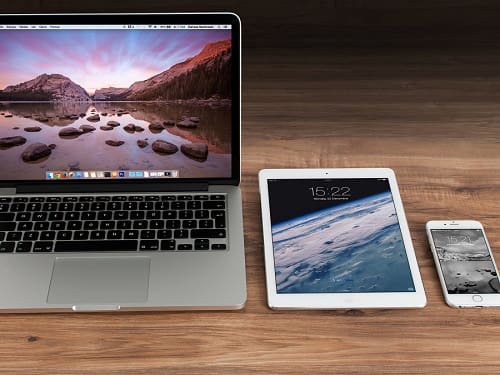 Apple has announced a new 'Business Essentials' service that enables small businesses to easily manage every employee's iPhone, iPad, and Mac.
Device Management Solution For Small Businesses
Aimed at business with up to 500 employees, Apple says that 'Business Essentials' has been designed to make it easy to manage every aspect of the Apple devices in the customer's organisation as the organisation grows. Apple says this device management package for small businesses "makes managing Apple devices as easy as using them," and that it's "like having the big IT department, without having the big IT department." Apple says that Business Essentials will allow a small business to easily configure, deploy, and manage Apple products from anywhere.
What Is Included With 'Business Essentials'?
The service is described as a "complete solution" and includes help with setup, onboarding (described as being "as easy as logging in"), backup (using iCloud), security (built-in), support (24/7 with AppleCare), repairs, and updates. Apple stresses that the service will make it easy to get replacements and update devices.
There is also a new Apple Business Essentials app that employees can use to install apps assigned for work and to request support.
Collections
Within Business Essentials, 'Collections' enables IT personnel to configure settings and apps for individual users, groups, or devices. This means that when employees sign in to their corporate or personally owned device with their work credentials, Collections automatically pushes settings such as VPN configurations and Wi-Fi passwords. Also, Collections will install the new Apple Business Essentials app on each employee's home screen, where they can download corporate apps assigned to them, such as Cisco Webex or Microsoft Word.
Security
Business Essentials allows IT managers to enforce critical security settings such as FileVault for full-disk encryption on Mac, and Activation Lock to protect devices that may be lost or stolen. Apple Business Essentials also ensures these can't be turned off by mistake. For BYOD, when employees use a personal device at work, 'User Enrolment' creates cryptographic separation for work data, to ensure employee data remains private while company data remains secure.
Support and Repairs
Apple says businesses have the option to add fast and reliable service for employee devices with prioritised Apple Support. Also, when a business adds AppleCare+ for Business Essentials to their plan, they will receive 24/7 access to phone support, training for IT administrators and employees, and up to two device repairs per plan each year. One aspect that may be particularly appealing in the world of remote and hybrid work is that with Business Essentials, Employees can initiate repairs directly from the new Apple Business Essentials app, and an Apple-trained technician will come onsite in as little as four hours to fix their device.
When?
Business Essentials is currently only available for small businesses in the U.S. with up to 500 employees but potential users can apply to try Apple Business Essentials before its release in spring 2022 by enrolling here: https://smb.apple.com/essentials/ .
How Much?
There are three different Business Essentials plans available which can be customised to support each user with up to three devices and up to 2TB of secure storage in iCloud, starting at $2.99 per month, with optional AppleCare+ for Apple Business Essentials.
What Does This Mean For Your Business?
With many different SMBs now using Apple devices for employees, and perhaps employees using their own Apple devices for work, and businesses operating remote and hybrid working practices, this sounds like a valuable service. Not only does it offer security and control, but the fact that it offers training and support and promises to be easy to set up and operate is likely to make it attractive to many businesses that are getting used to subscription-based everything, and who may not have the tech expertise in-house. It also sounds flexible enough to grow easily with businesses as they expand and change and provides a manageable way for them to move from BYOD (while ensuring data security) to IT deployed. For Apple, it is a way to get more enterprise business, learn more about its SMB customers and their needs going forward, and be immediately on hand when new devices are needed thereby retaining its customers and their loyalty.
Ready to find out more?
Drop us a line today for a free quote!