UK Joins Amazon's Fast Drone Delivery Expansion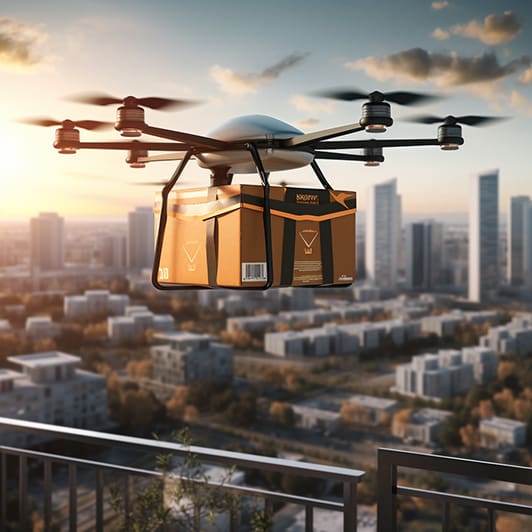 Amazon has announced that it will be expanding its ultra-fast Prime Air drone delivery operations to the UK, Italy and also to an as yet unnamed US city by the end of 2024. 
Prime Air Drone Delivery
Amazon Prime Air is a service is intended to (safely) deliver packages to customers in 30 minutes or less using unmanned aerial drones. The unmanned (UAV) delivery drones, which fly at altitudes below 400 feet, use advanced sense-and-avoid technology to safely navigate the airspace and deliver the package to the intended location. As well as being convenient and fast, particularly in areas of road congestion, using these electric drones is also one way that Amazon hopes to reduce the carbon footprint of its package delivery and contribute to its goal of net-zero carbon emissions by 2040.
Using Drones For More Than A Year
Amazon's Jeff Bezos first revealed his plans for a drone delivery service back in 2013 and Amazon Prime Air completed its first fully autonomous drone delivery as far back as December 2016. In 2020, Amazon received approval from the US Federal Aviation Administration (FAA) to operate its fleet of Prime Air delivery drones, and Amazon says that it's been using drones in the US to safely deliver customer packages weighing up to five pounds in one hour or less, for almost a year.
The company says the new locations (i.e. the UK, Italy, and a third city in the US) will add to its existing opt-in drone delivery operations, and that Amazon's goal is to deliver 500 million packages on autonomous aircraft by 2030. 
Regulators
However, in order to expand its drone network, Amazon will need to satisfy the European regulator which it has found a challenge in the US, such as satisfying the FAA that the drones can operate an autonomous safety-critical system over densely populated environments within the busy US national airspace. As such, and with several test crashes, it was reported that by May this year, Amazon had only completed 100 deliveries in two small U.S. markets compared to Walmart backed DroneUp which reportedly made more than 110,000 deliveries in the US. Therefore, Amazon will need hundreds of incident-free flights to satisfy regulators and expand its services. Also, in the US, there have been some reports of low signups to drone delivery services.  
For its new UK, Italian, and expanded US drone service, Amazon says it's been working closely with national regulators and international regulators, has committed the right resources and has the right technology and infrastructure in place to make its service scalable, convenient, and safe.
Better Drones 
Amazon has announced that its UK and Italy Prime Air delivery service will be undertaken using its new MK30 drone design, which it says is "quieter, smaller, and lighter, than previous models" and can fly twice as far as previous Prime Air drone models, thereby reaching customers further from fulfilment networks. The MK30 drone features 'best of both worlds' design as its tiltrotor system means it can take off like a helicopter and transition into horizontal wing-borne flight once in the air. 
Other Improvements
Crucially, for UK flights, Amazon says the MK30 can "fly in more diverse weather conditions" with the package held inside the drone to protect it. Also key to this operation is that the MK30 is equipped with "sense and avoid technology" so it can avoid obstacles in the delivery area. Some of the problems with Amazon's previous drone models were that they required site surveys to find landing spots with trimmed grass, requiring people, pets and objects needing to be 5 metres away. The hope is that the new MK30 drone (regulations allowing) will be able to operate more safely in tighter and more varied spaces. 
Humanoid Robot Announcement
In addition to announcing its new drone services, Amazon has also announced that it will be testing Agility's bipedal robot 'Digit' (a humanoid robot with arms, legs, and a head) in its warehouse facilities. This marks a substantial change from its many wheeled and robot-arm style robots. Amazon already has a staggering 750,000 autonomous mobile robots (AMRs) deployed across the company's warehouse network, but a walking humanoid design is a first. It is thought that humanoid-style robots will be well suited to workspaces built for humans (shelves and stairs), and that it could have wider scope than just being used for parcel-picking, thereby expanding future possibilities. 
What Does This Mean For Your Business?
Amazon's wealth, power, scale, and scope as a business has allowed (and perhaps required) it to experiment more with automation that improves both its productivity and efficiency (i.e. robots) and its delivery service (the drones). In addition to improving these aspects of its business, its drones and robots have been a way for Amazon to put more pressure on the competition, open up new future opportunities, offer more choice to customers (opt-in drone deliveries), learn and build alliances and partnerships, move further towards meeting its green targets (zero emission technology), and continue to grow and expand. 
In the UK, parcel delivery drones flying overhead would be a new and novel development but would offer potential opportunities for businesses trying to offer customers speedy (at least same-day), secure deliveries even to difficult-to-reach locations at a time when our roads are often congested, particularly in urban areas (if the price were right).
There are regulatory hurdles to overcome, nevertheless Amazon has made the effort to create a safer and more suitable drone to meet specifications and match environmental conditions. The advantages of drones (speed, directness, cleanliness) could be appreciated and used as way to add value and provide a competitive edge to all kinds of businesses and organisations in the UK that need to deliver goods and other items very quickly.
Ready to find out more?
Drop us a line today for a free quote!