Ereaders? Amazon, Kobo … And The Others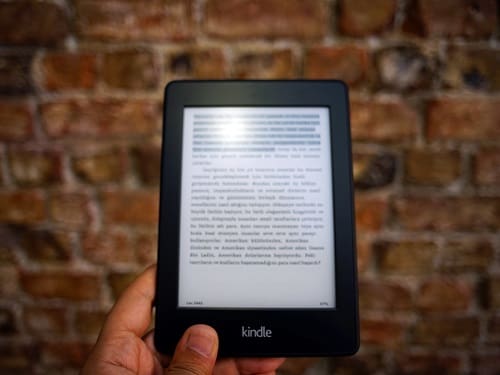 In this insight, we look what ereaders are, their strengths and weaknesses, and popular makes and models.
Ereaders
Ereaders / e-book readers / e-book devices are mobile electronic devices that look similar to tablets and are designed primarily for the purpose of reading digital e-books, newspapers and magazines which the user downloads to the device. Ereaders mostly have 'electronic paper' screens to make them easy to read plus give them a long battery life. For most users, a Wi-Fi-only e-reader rather than having a connection is usually enough.
Users typically pay a monthly subscription to read the ebooks. Ereaders are useful as a relaxation or work tool.
The Two main companies who currently dominate the ereader market globally are Amazon (with its Kindle ereaders) and Kobo.
Brief History
Following the development of electronic paper (by E Ink Corporation) in 1997, which allowed a display screen to reflect light like ordinary paper without the need for a backlight, the first commercial ereaders were introduced. These were Sony's Data Discman and the Rocket eBook, followed by the Sony Librie (2004), Sony Reader (2006), and the highly popular Amazon Kindle, released 2007. Apple joined the market with its multi-function iPad which included an iBooks e-reading app linking to the iBookstore. Ereaders have been improved with added features and vast numbers of publications available ensuring sales of ebooks and ereaders have increased. For example, in the US in 2021, ebook revenue was $892.5 million. Physical books, however, still outsell ebooks. For example, in the US in 2021, only 23 percent of the population purchased an e-book, compared to 45 percent who bought a printed book (Statista's Advertising & Media Outlook).
Advantages of Ereaders
The main advantages of readers are:
– They're portable like a book but can hold thousands of books while weighing less than a single book.
– There is a huge amount of choice and ebooks can be delivered to the ereader as soon as they're purchased with no waiting, and no wasted journeys to find books that aren't in stock.
– The cost of books can work out cheaper (no shipping and handling costs).
– Ereaders incorporate other features that books don't have, e.g. the screen / text size is adjustable, and they contain multi-media elements (audio and video).
– It's easier to mark passages, save pages and search text.
-It's easier to use an ereader to read a book in the dark.
Some of the disadvantages of screen readers are:
– The cost of the ereader and the subscription, e.g. if the user is a light reader anyway.
– They rely on electronic charging and battery life to function.
– The wide choice of different ereaders available may make it difficult to choose the right one.
– Books from one type of ereader may not be compatible with another.
– Ebook files don't last as long as physical books.
– Ereaders are harder to read in bright sunlight and may not be a good option to leave in the heat, e.g. reading them in the sun on holiday.
What To Look For When Choosing An Ereader
Some of the factors to consider (in addition to the price) when choosing which ereader to buy could include:
– Screen type. Whether it has an unlit, paper-like display like E Ink (doesn't drain much battery and reduces eye strain), or an LCD screen like a phone, or a hybrid version.
– Size and weight. Whether you need a big screen or pocket-sized portability, screen size and resolution.
– Which interface is preferable – buttons, a touchscreen, or a combination of both.
– The battery life.
– Which ebook stores they can directly access, which affects the choice available. For example, Kindle has access to Amazon's online bookstore, but the Nook and Kobo have access to Barnes & Noble and Borders.
– Memory capability and capacity, i.e. how much media fits in the device / how many books they can hold at one time.
– Audiobook capability. Not every model offers audiobook capability.
– Compatibility of formats. For example, ebooks purchased via one platform may not be compatible with another.
Makes And Models
Popular makes/models of ereaders include:
– Kobo Libra 2. This touchscreen ereader has 32GB storage, a 7-inch screen, a battery life of up to 6 weeks, fast USB-C charging, and is priced at around £160. Kobo says it can take up to 24,000 eBooks, 150 Kobo Audiobooks, or a combination of both. Drawbacks include that its it won't take Amazon purchases (for Kindle) because it uses its own proprietary format and trying to make it do so involves the use of different apps to convert them.
– Amazon Kindle Paperwhite (2021). This touchscreen ereader has 8GB storage, a 6.8-inch, and a battery life of up to 10 weeks, and fast USB-C charging. Amazon says that it has up to 20 per cent faster page turns than its predecessor.
– Amazon's Kindle Oasis (2019 version) is waterproof and is lighter than the Kobo Libra 2 and it comes with 8GB up to 23GB storage options.
– The Kobo Clara HD is regarded as being a budget ereader with 8GB, as 6-inch screen, and a battery life of up to 4 weeks
– The Kobo Elipsa has been described as expensive, has a 10.3-inch, a touchscreen, a battery life of up to 4 weeks, and comes with a stylus.
– The Onyx Boox Max Lumi 2 has a 13.3-inch screen, 128GB storage, and a battery life of up to 4 days.
– The Barnes & Noble Nook GlowLight Plus has a 7.8-inch screen, 8GB storage, and up to 2 weeks battery life.
– The Sony Digital Paper has a 10.3-inch screen, 16 GB storage, and a battery life of up to 3 weeks.
What Does This Mean For Your Business?
The ereader market is dominated by Amazon's Kindle models and Canadian company Rakuten Kobo Inc (Kobo) and as such their products are the most popular. Ereaders have the advantage of giving access to thousands of books through something that is lighter and thinner than a single book. Ereaders haven't yet made ebooks more popular than physical books, but they have been growing in popularity since first Kindle arrived 15 years ago. Although purchasing the device is quite expensive, users appreciate the convenience and that simply being able to download and store multiple (cheaper) books is attractive. Of course, they have their disadvantages (battery life, incompatibilities between brands), and to some book consumers, they just don't have the charm of the real thing. However, the sales speak for themselves and ereaders offer a convenient and flexible tech alternative to paper books.
Ready to find out more?
Drop us a line today for a free quote!